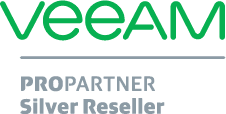 Veeam ONE is an advanced and relatively easy to operate tool allowing for comprehensive monitoring and, as a result, optimal management of virtual machines operating in environments based on VMware vSphere and Microsoft Hyper-V platforms.
Technologies developed for this solution allow for, among other things, monitoring of efficiency of the machines, detailed reports on their condition as well as full control over the backup copies. The number of enterprises and institutions that use Veeam ONE as a sentinel for their infrastructure is currently at the level of tens of thousands which, in practice, translates into millions of virtual machines controlled by means of this solution.

Veeam ONE functions and possible solutions
The Veeam One solution is characterised with a broad range of capabilities and is equipped with a number of functions that make monitoring fully adjustable to the challenges the modern data centres face. One should note that Veeam allows for free familiarisation with their tool, providing a free version on the market – Veeam ONE Free Edition. The basic applications of the tool can be described as follows:
monitoring and alerting – Veeam ONE allows to monitor the condition of the virtualised environment 24 hours a day without participation of the administrator, and all problems will be signalled to the IT support before they can interrupt operation of systems or applications. The personnel can also view many parameters with different levels of detail, obtaining knowledge regarding loads present in the supervised architecture or level of resource consumption.
planning computing powers and use of resources – the IT support using Veeam ONE gains access to many tools of analytical nature, allowing for to plan the computing powers in an exact manner. Automations of activities improves safety of works connected with changes or extension of the system. On the other hand, improvement of optimisation of the state of resource use can be achieved easily due to the function of flexible allocation of virtual disks.
advanced reporting – comprehensive and exact documentation regarding the state of the environment is a crucial element of its effective control. Veeam ONE, in addition to preparation of daily current reports, offers broadly configurable options designed for, inter alia, automation of preparation of various types of reports addressed to employees or entities and, if needed, collection in one place of key data in terms of business processes.
For complete product catalogue with product codes, visit http://www.veeam.com
Developed based on materials made available by Veeam.