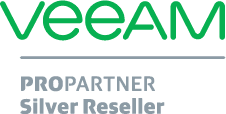 Veeam Backup & Replication is an advanced tool combining flexible, reliable backup and replication, providing enterprises and other entities with sense of security of data and operation of applications in their virtual environments based on VMware vSphere and Microsoft Hyper-V platforms.
Creating Backup & Replication, the Veeam engineers considered the increasing expectations of organisations, continuously making large investments in their data centres. The need for uninterrupted access to information collected in them and operation of applications without breaks cannot be met without software adjusted to the needs of modern IT, used for creation of backup copies and data recovery.
The Veeam Backup & Replication solutions offer their users multiple functionalities, beginning from such as creation of backup copies, data recovery and replication, to other activities making work in VMware vSphere and Microsoft Hyper-V systems efficient and secure.
recovery – Veeam Backup & Replication provides reliable and almost instantaneous recovery of the virtual machine, databases, application fragments or, simply, files. The efficiency of the solution is best proven by the fact that the value of recovery time and point objective (RTPO) in relation to all data and applications are at a level lower than a quarter.
data loss protection – the Veeam solution combines fast and simple recovery of data with their highly safe external protection (upon creation, copies are transferred to a location separated from the production environment). This is supplemented with options connected with encryption of secured backup copies during their transfer as well as full support for cloud type environments – the cloud is used as a safe repository of backup copies.
guaranteed protection – Veeam Backup & Replication can ensure recovery of all operating virtual machines and, thus, applications or files. This is possible due to testing options for the created recover points, replicas and backup copies.
optimisation of use of data potential – the created backup copies and replicas can be used to build a test environment reflecting the production environment. This allows for safe verification of its behaviour during implementation of new applications or other changes and, in consequence, ensures problem-free actual implementation of innovations upon performance of tests.
comprehensive insight – the Veeam Availability Suite packet combines the advantages of the Veeam Backup & Replication and Veeam ONE tools, supplementing data protection with comprehensive and continuous monitoring of activities related to backup and replication, combined with alerting tools and extensive reporting. Monitoring is complemented with solutions designed for optimisation of use of the available resources and possibility of automated planning of computing powers that can allow for accurate decisions on the future of the backup copy infrastructure.
For complete product catalogue with product codes, visit http://www.veeam.com
Developed based on materials made available by Veeam.