"Deployment of a mobile device management system in units of State Forests" – a new contract signed with the IT Department of State Forests. It was concluded on 03.10.2019. The bid of the consortium led by ESKOM was regarded as the best one. The entire contract is worth over gross PLN 8.6 million.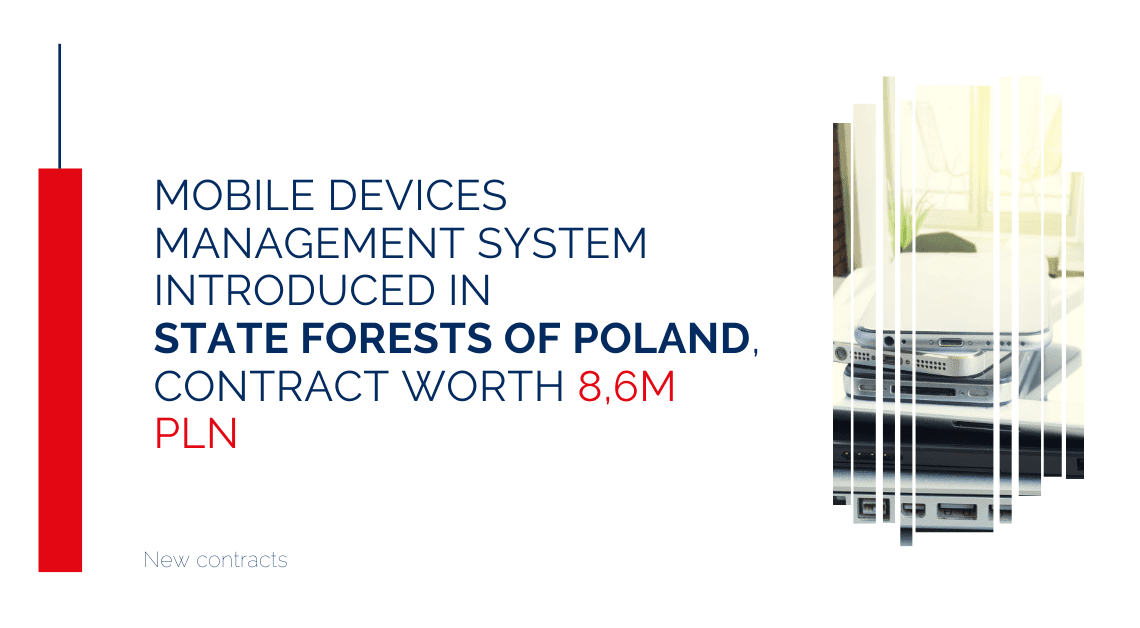 A large portion of State Forests' employees are field workers equipped with mobile devices. So far – without a dedicated system – managing such a large number of devices was difficult. The MDM system – Mobile Device Management system – being deployed will allow not only to manage equipment more efficiently, but also to launch new functions. Please note that this yet another product being deployed by ESKOM for the IT Department of State Forests.
The order includes the following components:
Delivery and launch of the central site with the capacity to operate at least 20,000 mobile devices along with 200 licences and support throughout the term of the contract
Delivery, under a right of option, of up to 14,800 EMM system licences for mobile devices along with support throughout the term of the contract, according to the needs of the organisational units of PGL State Forests.
Under the contract, the Consortium:
Will prepare a technical design for deployment of the EMM system in PGL State Forests' environment
Will provide a lice for VMware Workspace ONE Advanced with support
Will install EMM system components on PGL State Forests' virtual servers
Will integrate the EMM system with the AD system and PGL State Forests' PKI.
Will configure templates in MSFT CA
Will configure security profiles for mobile devices with Apple iOS and Google Android.
Will prepare the integration of the EMM system with the VPN system of the Contracting Authority (Check Point)
Will prepare configuration profiles for mobile devices with Apple iOS and Google Android in the scope agreed with the Contracting Authority
Will carry out trainings for central administrators of the EMM system
Will train the regional EMM administrators
Will prepare as-built documentation of the EMM system
For over a dozen years, we have been providing IT services (IT outsourcing, IT specialist outsourcing), we have been implementing dedicated IT solutions in the field of IT infrastructure and security and we have been creating and developing software. From the very beginning, we have been expanding the scope of our competences. Our Clients include both large organisations (from the financial and public sector mostly) and SMEs.