The IBM Informix environment is complicated and administration of data bases based on it is not easy without proper support. The Server Studio software developed for its purpose makes it, however, as easy as never before.
Server studio allows for efficient management of tasks that keep the environment of the IBM Informix database servers at a properly high level of availability and efficiency, and the time and labour saved thanks to this tool can be used to address other needs of the company.
Server StudioTM is software prepared by Advanced Global Systems (AGS) in close cooperation with IBM the task of which is administration of servers and Informix databases. The solutions included in the Server Studio allow the program to imitate behaviours of developers, administrators and other IT specialists, and the objective of these procedures is to optimise the efficiency and, thus, improve the effectiveness of everyday work in the Informix environment (database maintenance and management).
The intuitive and interactive functionality of the Server Studio software allows to reduce the time of task performance that usually take precious hours, such as development of the SQL code, management of data base templates and disk spaces, server maintenance, etc.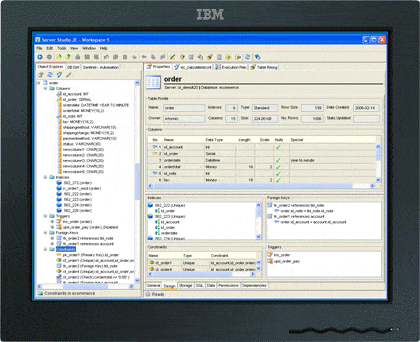 The Server Studio software belongs to a group of (IT) solutions combining simplicity with concurrent possibility of full control over the managed environment. Effective administration of data bases in this environment is possible due to coherent and highly intuitive graphic console, providing a powerful, integrated and modern tool that makes operation of databases by means of command entries a thing from the past. Thus, the capabilities of AGS Server Studio can be used both by experienced IT support as well as persons who are new to work with the Informix system.
Simplifying, one could state that AGS Server Studio provides fully automated assistance for the IT departments operating in the database environment.
The basis for the above statement can be a short overview of functions, applications and potential profits resulting from implementation of this tool. Server Server Studio, along with the Sentinel software, automatize monitoring of Informix database sever operation (functioning 24 hours for 365 days a year), providing extensive and sophisticated analytical tools for optimisation of critical parameters and managing independent reactions to events.
In addition, they help in maximising availability, performance and security of the entire infrastructure of Informix database servers, both for those gathered in one location and those with remote access and spread around the world. Server Studio, exceptionally easy and very efficient tool for simultaneous management of multiple data bases.
For complete offer of AGS products and solutions visit http://www.serverstudio.com
Developed based on materials made available by AGS.