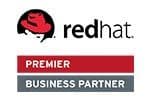 ESKOM is a Partner of the Red Hat company – the market leader in developing software within the open source family dedicated to enterprises and organisations. Thanks to the partnership status and our engineering team abilities, ESKOM can offer very good terms for subscription purchase and effectively implement technological and business solutions based on open source.
It has to be noted that the solutions with the Red Hat mark are considered very reliable – they are employed by about 90% of the companies ranking on the Fortune 500 list to a lower or higher extent.
For over 20 years of operating, Red Hat and its characteristic logo has been mostly associated with open source software and Linux system, which has been gradually developing (in commercial distribution) up till today. Other areas of company's activity are JBoss middleware and creating and developing applications intended for use in specific business types and fields.
Based on the cooperation with Red Hat, ESKOM can provide a wide range of solutions with the Red Hat mark, focused no the following product lines:
Cloud – solutions enabling construction and easy operation of cloud environment in order to enhance productivity, resource optimization and operation of applications and related data when using heterogeneous and dispersed IT infrastructure.
JBoss Middleware – family of low-burden, cloud-friendly and scalable solutions enhancing process of application creating and implementing. Easy connection of systems and automation of tasks substantially enhances IT team productivity.
Operating system – operating systems from open-source family, providing rich in functions, stable and efficient platforms for physical, virtualized and cloud-operating environments. They enable to meet fully the current challenges, thus providing the indispensable flexibility, when new ones crop up.
Virtualization – versatile line of products for virtualization of data centres, enabling to construct flexible and secure base for virtual environment while at the same time preserve the characteristics needed for corporative application functionality.
Storage – open, programmable and fully scalable products, which enable for easy organization of constantly increasing number of data with the use of physical, virtualized and cloud environments.
Mobile – platform dedicated for mobile applications, enabling organizations for their fast and flexible constructing and implementing. It enables for, e.g. effective use and control of operation of units availing of various environments within it.
For complete product catalogue with product codes, visit http://www.redhat.com
Developed based on materials made available by Red Hat.