HPE Synergy is a breakthrough solution for creating a composable data centre. It is a unique architecture, where physical resources are managed with a code and are shared – within the entire solution – when there is a need in terms of services or processes. This is the answer to the need for constant development of computing power, flexibility and safety of the infrastructure.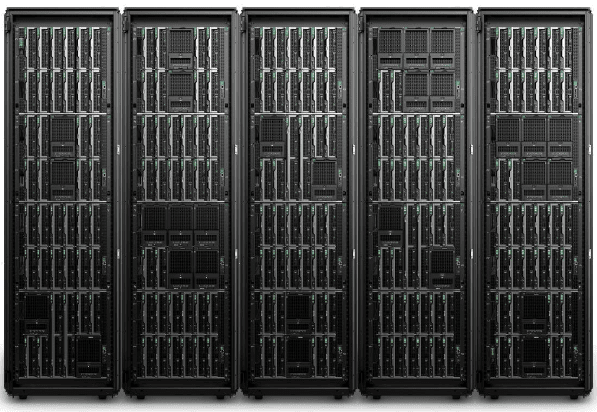 HPE Synergy comprises a range of composable components: servers, mass storages and connections. Regardless of their physical location within one or more housings, all is managed with one desktop.
HPE Synergy: Housing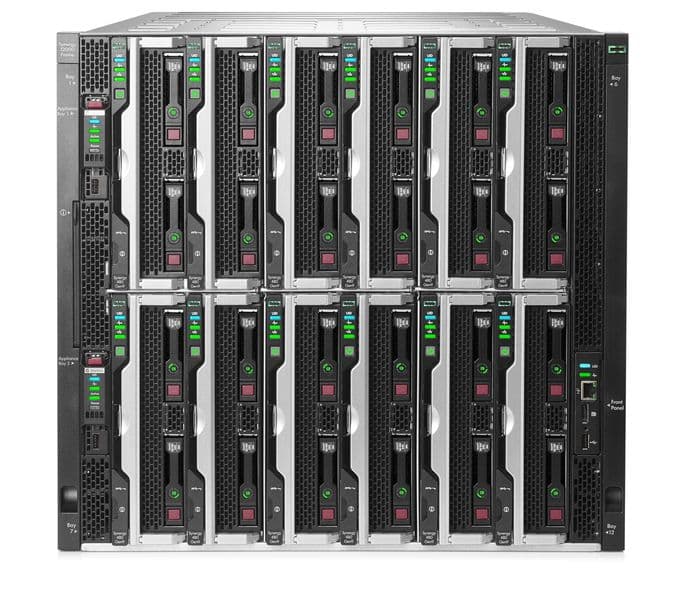 The housing of HPE Synergy 12000 is the basis of each Synergy solution. That unit combines servers, mass storages and connections with a high-throughput passive indirect bus. Additionally, the Intelligent Frame Link technology allows for calibration of one or more housings with connection modules and the HPE Synergy Composer solution.
On the physical side, we have a unit sized 10U, which allows to place it in most standard modern frameworks. HPE Synergy 12000 has 12 half slots, which allow for installation of selected components and bays for 3 pairs of input/output switches.
HPE Synergy: Servers
HPE Synergy 480 and HPE Synergy 660 server modules are units of general application (e.g. business applications, virtualisation, HPC, graphic computations) meeting the needs for maintenance of proper balance between performance, flexibility and density. They are based on Intel® Xeon Scalable CPUs of the Bronze, Silver, Gold and Platinum families, equipped with 4 to 28 cores.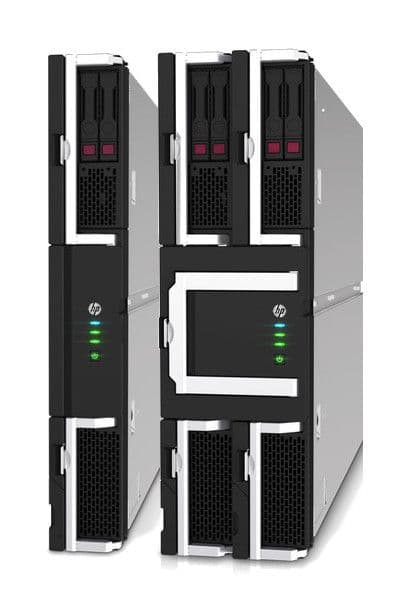 HPE Synergy 620 and HPE Synergy 680 server modules are units intended for tasks critical for organisation functioning and tasks in situations where a lot of operational memory is needed.
They are based on the cutting-edge Intel® E7-4800 Series and E7-8800 Series chips with the option to install up to 2 chips in Synergy 620 or up to 4 chips in Synergy 680. Those modules were developed for high availability and reliability.

HPE Synergy: Mass storage
HPE Synergy D3940 is a module being a part of Synergy components and providing fluid pool of mass storage for the composable infrastructure. It allows to install up to 40 SFF drives per module and to expand each HPE Synergy 12000 housing to 5 modules.
Each drive can be allocated to any server module and the HPE StoreVirtual VSA allows to create a virtualised, programme-defined mass storage available for all modules. The use of the other input/output adapter allows a redundant access route to hard disk drives and high data availability.
HPE Synergy: Network infrastructure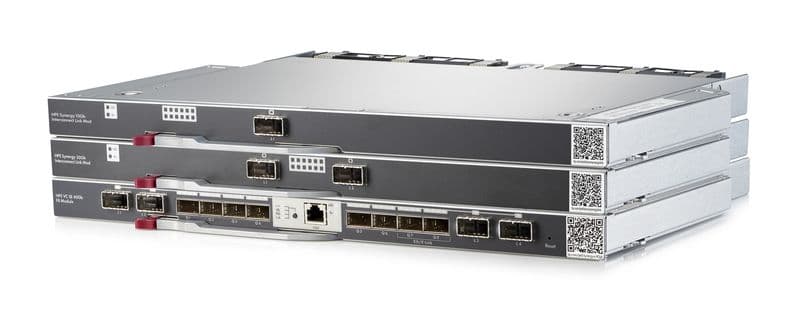 The input/output modules included in HPE Synergy are classified into:
Virtual Connects for Ethernet and Fibre Channel network connections,
and switches for Ethernet and Fibre Channel network connections.
In the case of Ethernet modules, it is possible to calibrate the network throughput in many HPE Synergy housings thanks to the application of main and satellite modules. This limit the need to use the ToR switch, considerably decreases costs and makes it easier to manage the backbone network. Moreover, Virtual Connect Ethernet modules support all connections in the data transfer network and storage are network thanks to ability to support many protocols: Ethernet, Fibre Channel, Fibre Channel over Ethernet and Accelerated iSCSI.

HPE Synergy: Management and Monitoring
The HPE Synergy solutions introduces two breakthrough components in its infrastructure. Those are:
HPE Synergy Composer,
and HPE Synergy Image Streamer.
HPE Synergy Composer is responsible for the management, monitoring and updating of the infrastructure built of several HPE Synergy 12000 housings on the Infrastructure-as-Code basis. All is carried out with one interface and with one unified Application Programming Interface (API). Adding new resources is automatic as well, which provide instantaneous readiness for use. HPE Synergy Composer is driven by HPE OneView.
HPE Synergy Image Streamer is a solution allowing for the fastest possible implementation of new systems or applications, as well as update of the existing ones, in the entire HPE Synergy solution. This is a basis for system images and applications, which basis – combined with the profiles created in Synergy Composer – allows to fully automatically configure operating environments in many server modules.
For complete product catalogue with examples of applications presented on the website http://www.hpe.com
Developed based on materials made available by HPE.