The HPE 3PAR StoreServ Mass Storage Family is the answer to all the needs of today's enterprises. It introduces a new quality in data storage and management, and thanks to All-Inclusive licensing, it includes all the necessary functionality right after start-up. In addition, the HPE 3PAR StoreServ arrays provide high availability, resulting in undisturbed company work with full security and readiness for future challenges.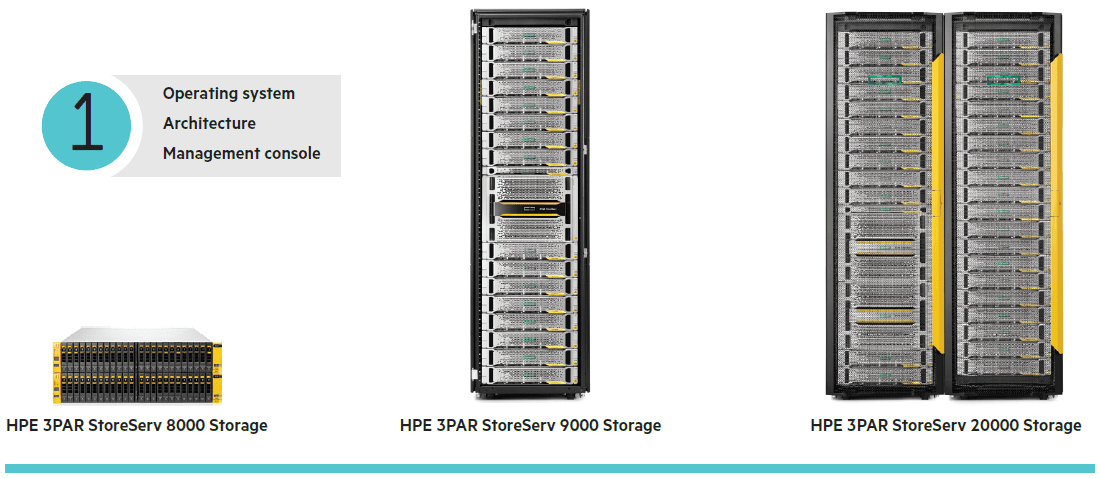 Within the portfolio of the HPE 3PAR arrays, there are three series:
HPE 3PAR StoreServ 8000 – This is a group of midrange arrays that distinguishes both hybrid and all-flash models. It is the ideal solution for medium-sized businesses looking for an efficient platform or for large organizations as a start-up platform with the option to expand in the future.
HPE 3PAR StoreServ 9000 – is a bridge between 3PAR 8000 and 3PAR 20000 lines, but it is a series only of all-flash arrays. It combines the price economy of the first with the performance and scalability of the second one.
HPE 3PAR StoreServ 20000 – is an enterprise-class arrays family, designed for Hybrid IT and all-flash, delivering high performance and capacitive scalability. Ideal for cloud applications as well as IT-as-a-Service (ITaaS).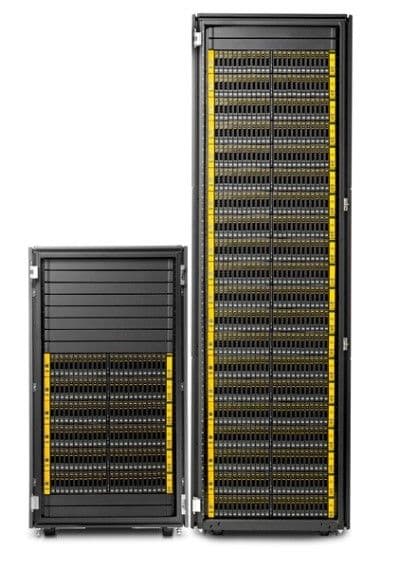 In total, it creates a cohesive ecosystem, built on a single hardware architecture, with a single operating system throughout the family, and a common management console.
Typically, the HPE 3PAR StoreServ arrays have 16Gb Fiber Channel ports with the option of upgrading to the same type or optional iSCSI, FCoE or Ethernet, fully redundant architecture and 99,9999% availability.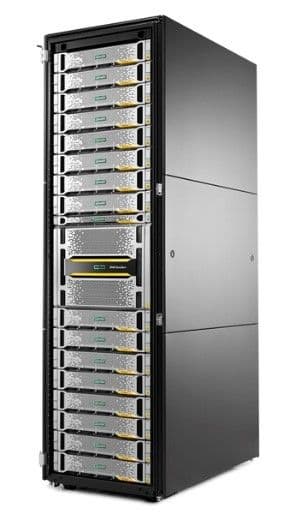 In addition to the standard processors in x86 architecture, the HPE 3PAR StoreServ arrays' controllers have dedicated HPE 3PAR ASIC processors, currently in the 5th generation. Their application allows for more efficient and easier arrays work, which measurably translates into savings for the organization.
As mentioned, the HPE 3PAR StoreServ arrays are available with all the onboard functionality. This approach allows you to purchase a complete data storage solution without having to consider licensing costs while upgrading your equipment. This protect the investment today and ensures peace of mind in the future.
Features of the HPE 3PAR StoreServ arrays

The HPE 3PAR StoreServ Mass Storages with a range of management support capabilities, from the StoreServ Management Console (SSMC, allow to control 32-arrays) by full CLI support, and strong integration with HPE OneView, VMware I OpenStack.
SMB/CIFS, NFS, FTP, and RESTful Object Access APIs are supported by File Persona, while Smart SAN allows you to make automatic SAN configuration.
In order to monitor the performance and capacity of the arrays, there is used System Reporter, and the Service Processor is responsible for diagnosing and detecting potential problems.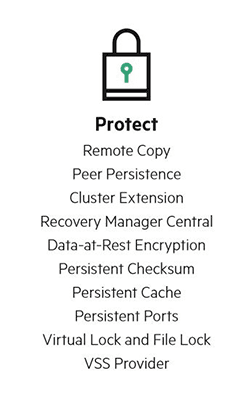 The Remote Copy functionality allows for data replication between sites, and thanks to the Cluster Extension it allows automatic switch the arrays in case of failure, using asynchronous replication. Full automation of switching for VMware virtual clusters or Hyper-V over long distances in synchronous mode is ensured by Peer Persistence.
Recovery Manager Central together with HPE StoreOnce contributes to the Flat SAN implementation, i.e. the direct backup process from the HPE 3PAR array to the mentioned deduplicator. This allows for a significant acceleration in the performance and readability of backups.
Encryption. Virtual Lock and File Lock are tools that provide independent access to the array for different user groups or applications, also protecting the shared resources, from unauthorized modification or deletion.
In case of traditional HPE 3PAR StoreServ arrays, the Adaptive Flash Cache feature is extremely useful, because with a small investment in SSDs, it provides significant increases of I/O operations, while reducing delays. By creating a hybrid array, thanks to Adaptive Optimization use it provides a fully automatic mechanism for optimizing data transfer between hot (SSD) and cold (HDD) layer.
Priority Optimization is responsible for QoS performance, while Dynamic Optimization allows to make any changes to the location, type, or volume of volumes on the HPE 3PAR StoreServ array.
Thanks to the group of tools responsible for federation it is possible, among others, to link several HPE 3PAR systems and smoothly using the data in these systems without affecting applications or users (Peer Motion).
The HPE 3PAR StoreServ arrays within the Adaptive Data Reduction (HPE) StoreServ appliances offer the following functionality:
Zero detect – eliminates empty/zero data blocks, which contributes to lower storage costs;
Deduplication – analyses data stored on SSDs to eliminate duplicates and save only one block of the same type, saving significant disk space;
Compression – reduces the amount of space occupied by SSDs due to data compression mechanisms;
Data Packing – Increases the performance of storage system by condensing a dozen or so smaller blocks into packets, which translates into increased throughput.
Virtual snapshot processes as well as any task on them, including fast restore are subject to Virtual Copy work.
For complete product catalogue with product codes, visit http://www.hpe.com
Developed based on materials made available by HPE.