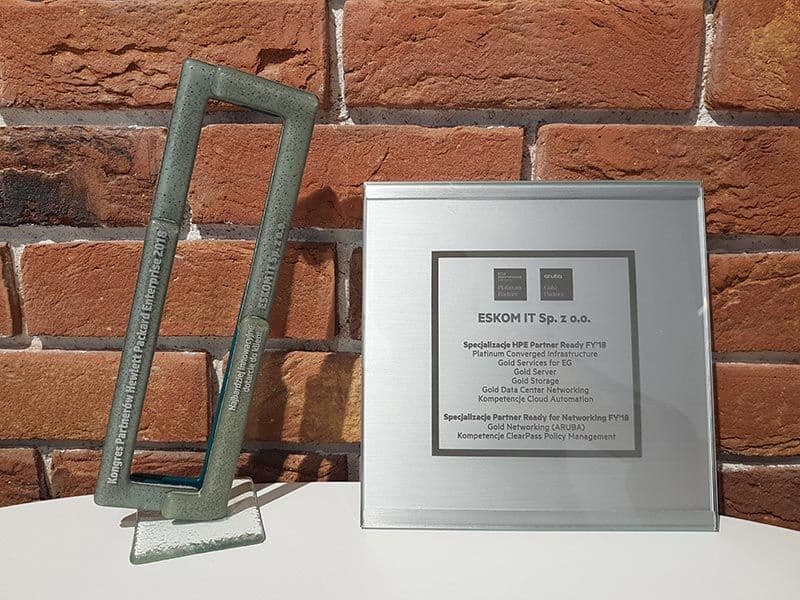 19th of April 2018 at the National Stadium in Warsaw took place one of the most prestigious IT events of the year in Poland: HPE Partners Congress and HPE Reimagine 2018. Both of them filled in with some considerable ESKOM success. This is so since we've managed to maintain the status of the HPE Platinum Partner and we have received the award for most innovative way of approaching customers. For the time of the conference, ESKOM has prepared a unique demo zone, which without any doubt shall remain in the memory of the participants for a long time.
During this year's Hewlett Packard Enterprise Partners Congress, ESKOM once again was granted the highest possible partnership status – HPE Platinum Partner. It's not just a confirmation of high qualifications and experience of our team of engineers at work on HPE solutions, but also an information to the customers that they are cooperating with professionals, which are able to implement HPE technology in accordance with their individual needs.
On top of that, we have also received the prize for the most innovative way of approaching customers. We are proud of that, while finding ourselves in such a noble company of HPE partners, we have managed to receive such a distinction.
ESKOM also participated at the HPE Reimagine 2018 conference, which took place in Warsaw. Along with other specialists and experts in the IT field, we discussed the future of the business and IT world. ESKOM as conference partner, has prepared a demo stand, which featured solutions based on HPE technologies Synergy Solution+ and HPE Simplivity. During the conference, we received from you several positive opinions, stating that yet another year in a row we have managed to shine among other conference participants. We are most pleased to know that our professional demeanour and commitment have been recognized by the customers!
HPE is nowadays one of the world leaders in the sphere of IT solutions dedicated for companies, and predominantly it develops technology in such fields as: servers, storage, network and cloud solutions. During the many year-long co-operation with HPE, the ESKOM team has proven its competences by way of being granted several specializations at work with solutions provided by this manufacturer. They are as follows:
Platinum Converged Infrastructure Specialist
Gold Services Specialist
Gold Storage Specialist
Gold Server Specialist
Gold Data Center Networking Specialist
Cloud Automation
ClearPass Policy Management