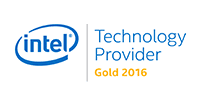 Intel decided to improve the current partnership level of ESKOM from Silver to Gold level. This is not only a form of appreciation for the effects of previous cooperation and knowledge of the Intel solutions, but also a confirmation of sale results obtained by the entire ESKOM team.
Extended cooperation – advantages for Clients
Increase of the partnership level with Intel means, from the point of view of the Client of ESKOM, that decision to have solutions based on Intel subassemblies delivered or implemented, they can be sure that the process will be carried out by competent and experienced specialists who will adjust the IT solutions to the individual business needs. ESKOM will also provide technology by the company from Santa Clara (CA) on even more beneficial financial conditions than before.
Intel is a corporation known mostly for its microprocessors and computer subassemblies, and the ESKOM team has worked using its technological and hardware solutions virtually from the beginning of the company.