ESKOM team had a pleasure to participate in a prestige event which was this year's NEXT, that is the Congress of Hewlett Packard Enterprise Partners 2016. The event location was Wytwórnia in Łódź and the organisers made effort to ensure that this meeting has exceptional atmosphere, which the event of 18 February will certainly become a positive memory of the participants.
ESKOM as a certified HPE partner
ESKOM presence is connected with the fact of being an HP authorised partner virtually from the start of its over 10-year presence on the market. The situation was not subject to change also upon the recent separation of the corporation into Hewlett Packard Enterprise and HP Inc. The confirmation of the competence of ESKOM engineer team in working with HPE solutions was granting ESKOM representative the certificate of partner authorisation for 2016. An important distinction for ESKOM was obtaining a nomination to the award of HPE partners in the category: Highest turnover obtained in Service Provider model in 2015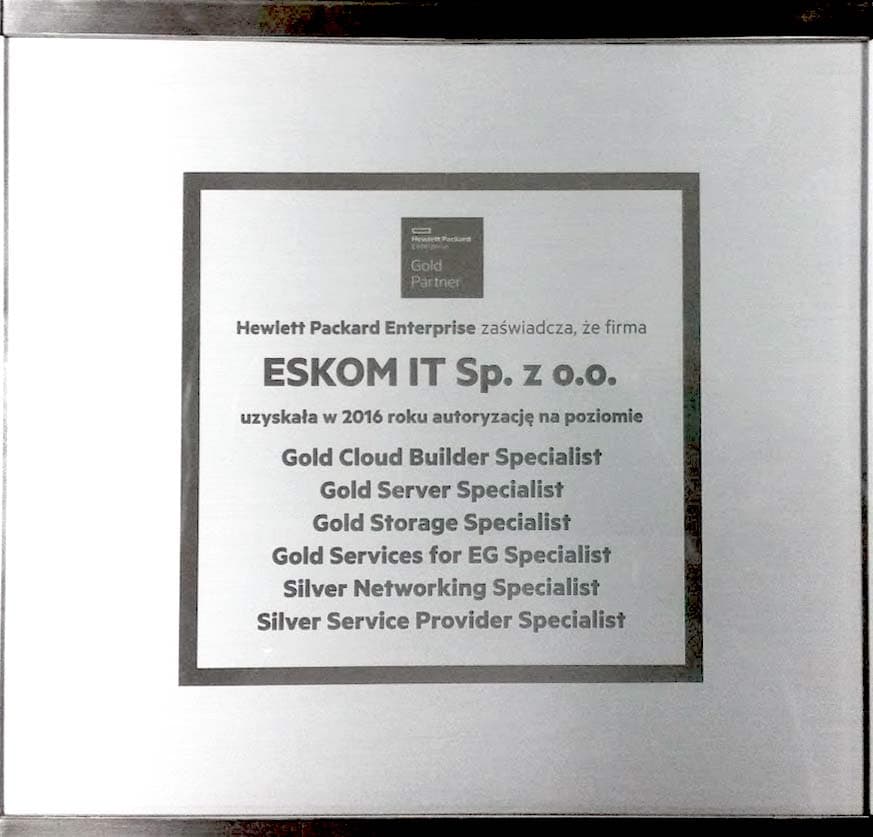 It confirms the high partnership status (GOLD partner) as well as indicates the specialisations of ESKOM, that is:
Gold Services for EG Specialist
Gold Server Specialist
Gold Cloud Builder Specialist
Gold Service Provider Specialist
Gold Storage Specialist
Silver Networking Specialist
Silver Service Provider Specialist
Television coverage, exceptional atmosphere
The aim of events organised by HPE in Łódź was to present the ESKOM development strategy for 2016 and establish closer relationships and experience exchange between different size suppliers of HPE solutions for companies and institutions.
The organisers of this year Congress decided on the unconventional atmosphere and the presentations were conducted in the form relating to known popular modern TV shows. A sample of the exceptional atmosphere of this meetings can be found in the photo gallery.