On 22 August 2019, a contract with the General Directorate of State Archives was signed to execute the order titled "Expansion, delivery, installation and configuration of the infrastructure required for launching the "Electronic Document Archives" system," divided into two parts. The bid of ESKOM IT was regarded as the best in both parts. The entire contract is worth over gross PLN 3.6 million.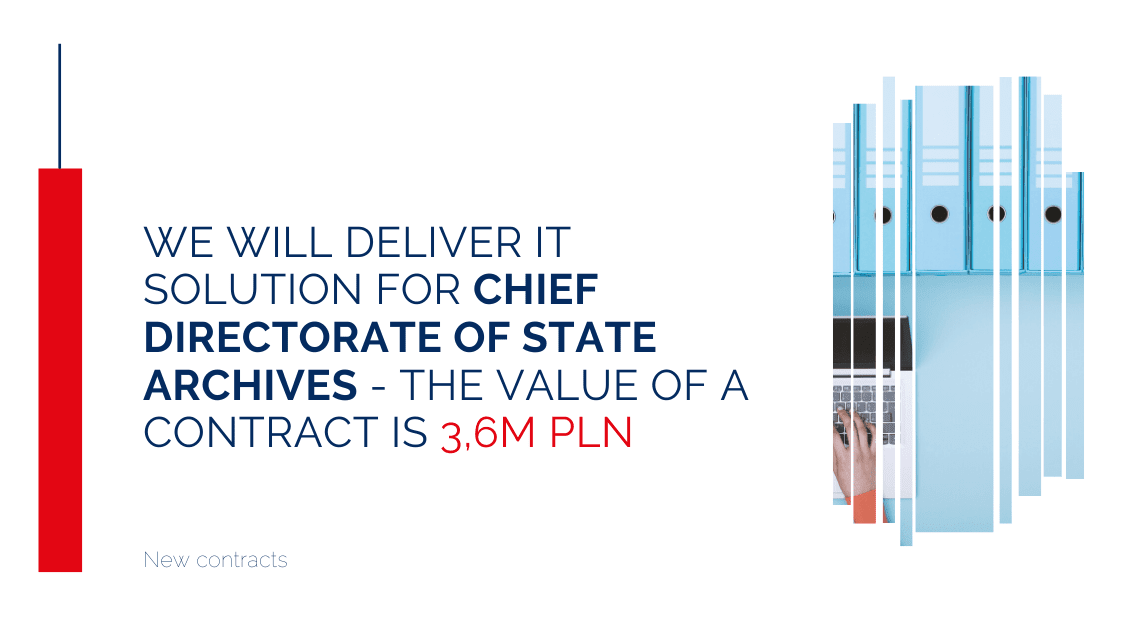 Within the first part, the Database Repository Expansion is to be executed by:
Expansion of a CAS disk array environment with shared storage with the capacity of at least net 250 TB;
Delivery of a tape library along with LTO 8 carriers;
We offer HCP (Hitachi Content Platform) object arrays and an HPE tape library along with five years of warranty-based support.
Part two of the order covers the delivery of Hyper-converged Virtualisation Platform along with system and virtualisation software:
Delivery of two identical sets of virtualisation platform along with software for resource virtualisation;
Delivery of four redundant aggregation switches with 10Gbps ports;
Executing that order part, we will deliver a hyper-converged infrastructure based on a solution developed by Nutanix; HPE Servers will comprise the hardware platform. The new virtualisation platform will share 400 CPU cores, 3.8 TB of RAM and 16 TB of storage.
We are happy that our new Client will be able to use our rich experience in the field of delivery of HPE technology-based solutions . We have been building deep relations with our Clients for years by a partner-centred approached and anticipation of our Clients' needs and any risk. Apart from a wide range of hardware solutions, we also offer you a wide selection of IT services.
The conclusion of the contract to deploy an IT solution for the Directorate General of State Archives is ESKOM's yet another step in the pursuit of the strategy for acquiring new Clients from the public procurement sector. The results of the tender satisfy us even more so as the market is developing dynamically and the competition is big.