In our work, we have always been guided by our Clients' interest. Process approach and use of professional experience in carrying out tasks guarantees the highest level of IT services provided. We continuously keep increasing our competences and acquiring certificates, and information security is the highest priority for us. Cooperation with many Clients from different industries results in extensive experience, whereas flexible approach allows us to solve even the most difficult problems in an effective way.
On the one hand, we are capable of cooperating with the most mature organizations which require the provider to understand and apply the language currently used in project methods. On the other hand, we also give support to companies which have not refined their standards yet and are looking for a partner that will help to create and implement them. Thanks to cooperation with ESKOM the needs and requirements of Clients change into projects with clear aims, costs, and schedules, to eventually create the desired product.


Our actions in the area of a constant Client support are also characterized by system approach. On an ongoing basis, we monitor the components of the Partner infrastructure managed by us and improve the operational procedures applied. We keep the documentation of the actions we perform, modifications, and changes of the status system. We cyclically provide valuable reports and help with planning the development of infrastructure.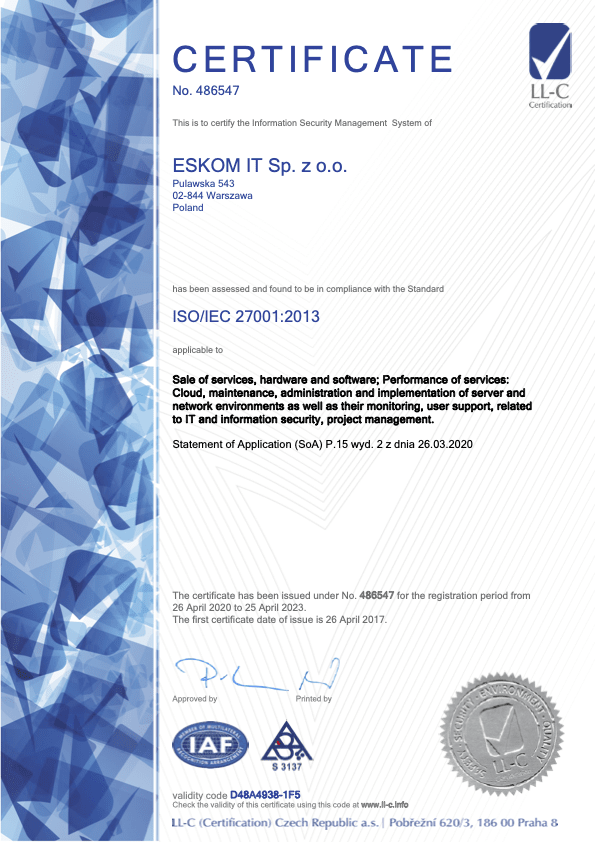 The effects of our actions confirm the accuracy of the chosen and consistently carried our development strategy based on science, constant improvement of qualifications, and increase of quality of offered services. Cooperation with a partner such as ESKOM is a guarantee of high efficiency of processes with simultaneous optimization of costs. Thanks to us our Clients have full control over projects in the IT sector.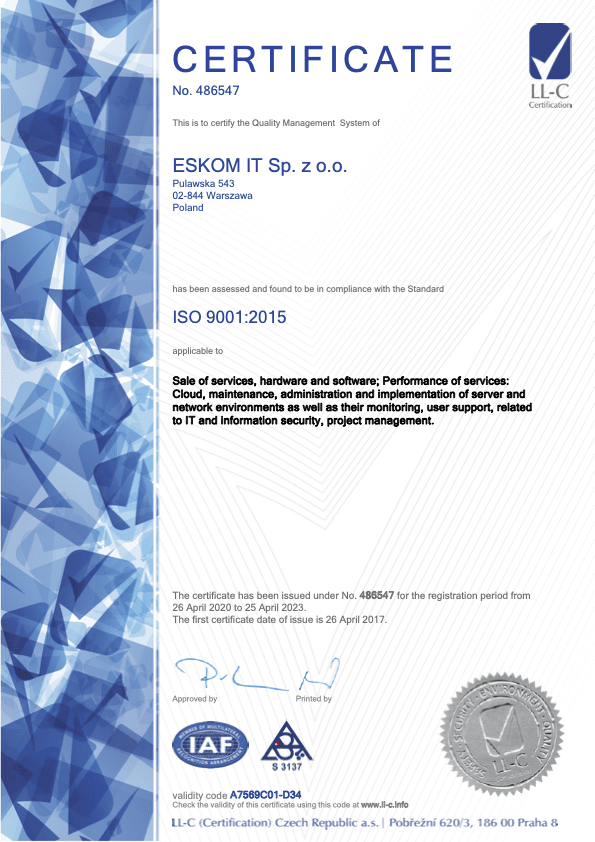 What confirms our endeavors is the implementation and observance of procedures and holding of certificates of Integrated Quality and Information Security Management System according to norms PN-EN ISO 9001:2015, ISO/IEC 27001:2013 in the scope of: Selling services, equipment and software. Providing services: Cloud, maintenance, administration and implementation of server and network environments, their monitoring, user support, connected with IT and information security, project management.