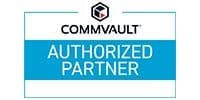 ESKOM is a partner of CommVault, a recognised producer of solutions concerning data backup and archiving. The key product of this American company is the CommVault Complete Backup & Recovery software, which is a complex platform providing enterprises and other organisations with data accessibility at the level they need and, in the case of a failure or a stoppage, with resumption of processes of critical significance for the conducted business activity in the shortest time possible.
CommVault is an IT company operating for more than ten years, whose mission is to provide the best data protection in enterprises and most optimal management of this data. The software by this New Jersey company is regarded as the leader in creating backup copies, data recovery and related processes (replication, deduplication). This is constantly proved in a prestigious, independent study conducted by Gartner (the so-called Magic Quadrant), according to which CommVault is the undisputed leader in backup systems.
CommVault signature software is currently used in over 19 thousand enterprises and institutions worldwide, and the list of its strategic partners includes the most popular enterprises and concerns, e.g. Hitachi, Microsoft, Fujitsu, VMware and Oracle.
For complete product catalogue with product codes, visit http://www.commvault.pl
Developed based on materials made available by CommVault.