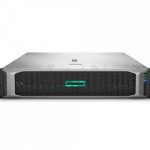 If you are looking for a complete solution for securing and managing your infrastructure, we present a system consisting of a physical two-processor server in a 2U housing. Veeam Backup & Replication backup software, VMware virtualization environment and Graylog log collection and analysis software were installed on it.
Concept
The task of the system will be the collection and analysis of IT infrastructure system logs, management of the virtual machine system for the vSphere host platform as well as execution and storage of backups. Additionally, the system will be able to optionally replicate copies to the ESKOM remote repository.
Four 1 Gb LAN ports are responsible for communication with the local network. Two 10/25 Gb LAN ports are used for communication with the iSCSI SAN network, and two 16Gb FC HBA ports for SAN FC. However, a remote port is dedicated to remote management that allows you to log into the console with the option of remote server restart.