Antispam in the cloud – Antispam-as-a-Service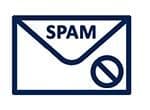 Antispam in the form of an IT Service (Antispam-as-a-Service) is an offer developed for companies and institutions where ESKOM has combined the highest efficiency of mail filtering with low cost of ownership and concurrent flexible approach to the Client's needs that often change quickly.
The gradual increase in the amount of corporate e-mail correspondence can possibly result in higher amount of spam which is much more dangerous than unwanted images or advertising content. Antispam protection is currently becoming a standard component of security system of each organisation, which wants to provide proper protection of their computing assets.
Antispam as an IT service – assumptions
Effective antispam protection does not have to be connected with purchasing and updating of antispam program licence by an organisation or particular users, but it can be successfully provided in the form of an IT service. The implementation of this solution provides equally effective content blocking as in the case of standard software, concurrently reducing the costs. The proposed method of valuation (with the current number of in-boxes, about PLN 3 each in-box/e-mail address) allows for significant flexibility in operation.
Antispam and anti-phishing protection 24/7
The Antispam-as-a-Service ensures that your incoming mails are filtered by an advanced antispam filter based on software developed by SpamTitan installed on ESKOM servers. This software is considered to be the most effective one among all known programs of this type. It guarantees the highest efficiency in blocking of harmful content available on the market, and the implemented filters in the solution provided by SpamTitan are regarded as leading ones as confirmed by independent industry tests.
Depending of the Client's needs and expectations, ESKOM engineers can configure independently e-mail filtering on the servers as well as prepare instructions on the solution implementation method for users who could make independent decisions on spam classification from the e-mail client level.
See also
News
IT Services
IT technology
Technological partners
4
Data processing centers
24
/
7
/
365
24/7 L1 and L2 service care