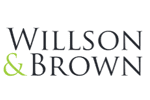 ESKOM informs about the first results of cooperation with Willson & Brown, the leader in materials for direct sales support. The proposed and provided IT solutions and services connected with their implementation significantly increased the Client's IT infrastructure capabilities. Apart from speeding up key business processes, the effect was produced by means of noticeably reducing operating costs (TCO) associated with IT infrastructure and simplifying and making processes related to its management more flexible.
IT solutions and services for the POS leader and the company's needs and challenges
The Willson & Brown company is the leading producer of materials supporting sales in commercial facilities (POS – Point of Sale). The company's area of activity covers a full range of actions related to the production and use of the products, from creating the concept, through designing and promoting the product to the production itself, preceded by making the prototypes. Moreover, the Willson & Brown group offers full support during the final sales process of the promoted product.
Growing business needs resulted in the fact that at the end of 2014 the company had to expand their IT infrastructure. Among others, its management board decided to buy new servers and a disk array and the offerors were expected to provide such IT solutions and services that would help increase network infrastructure performance, improve network security and ensure operational continuity should a failure occur. Modern as well as reliable high-parameter hardware was also to allow easy expansion in the future, when new business challenges settle in.
ESKOM as HP Partner – optimal implementation of new infrastructure
Ultimately, the decision was made to invest in Hewlett-Packard infrastructure, and ESKOM, as a reliable HP Partner, was responsible for the delivery, implementation and operational optimisation of solutions selected by Willson & Brown. These were, among others, the following: HP ProLiant servers, HP MSA 2040 disk arrays and HP MSL 2024 tape library.
The library, along with a dedicated backup server, serves to ensure the company's data security in case of a failure or other adverse events. The implemented infrastructure, allowing work in virtualised environment, substantially contributed both to speed boost and the company's key process safety. Moreover, ESKOM engineers offered support to Willson & Brown's IT team, providing knowledge enabling the latter to work more efficiently in the future.
"In our case, ESKOM was the provider of both hardware and contracted consulting services. Extensive experience and high competence of experts in HP hardware platform installation and configuration turned out to be the key factor in successfully finishing the project. After each stage, the experts – in cooperation with us – reviewed the works results and verified whether they had been properly installed and at the same time shared the knowledge with our IT team on implementation processes and further administration for maintenance of the system."
– Tomasz Cytlak, IT Manager in Willson & Brown