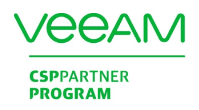 Veeam Cloud Connect is a solution dedicated for the organisations that are interested in external backup without the need to build their own backup centre. Cloud backup can efficiently substitute a backup centre and does not generate expenses related to putting money in a separate infrastructure.
The Veeam technology allows for safe and fast online backup to a software repository kept by the provider of cloud services. Moreover, when such a need arises, each backup copy can be restored efficiently and fast.
Veeam Cloud Connect – entirely safe cloud backup
To provide the highest safety level possible for their data backup, your organisation should follow the best practices on storing proprietary and confidential information in three copies, including two types of mass storage and the requirement that one backup copy remain outside the office of your enterprise or institution. Establishing such a centre requires time and expenses associated with the preparation of infrastructure and its further maintenance.
However, using a cloud to that end proves equally efficient, even more so that Veeam Cloud Connect fully supports virtualised environments (VMware or Hyper-V). Backup and recovery of a virtual machine proves not at all difficult for that technology.
Other notable advantages:
possibility of safe data migration to the software repository hosted by the cloud operator through an SSL connection (no licences need to be purchased),
easy access to and management of the stored copies – the functionalities of data view and recovery and available in one operator console,
numerous possibilities related to the use of modern solutions like multiplication of copies with integrated WAN acceleration, creation of those in an incremental mode and storage in the GPS model,
safety at every stage – data is encrypted in the source, repository and the transfer itself. The encryption does not reduce compression quality or migration speed.
The Veeam Cloud Connect solution is a function available in three packages of the Veeam software listed below and its use does not require purchasing a separate licence.
Veeam Availability Suite,
Veeam Backup & Replication,
Veeam Backup Essentials.
For complete product catalogue with product codes, visit http://www.veeam.com
Developed based on materials made available by Veeam.
"It worth adding that the backup made with VCC as part of ESKOM offer is physically located in Poland, which proves the conformity to Article 36, section 1 of the Personal Data Protection Act of 29 August 1997 and the Regulation of the Minister of Internal Affairs and Administration dated 29 April 2004."