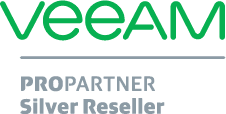 ESKOM is a partner of Veeam (Pro Partner – Reseller at the Silver level), a recognised producer of solutions in the area of modern data protection. The partnership status enables us to provide a wide selection of Veeam signature software in different configurations, and the company's engineering team possesses expertise and extensive knowledge regarding their software. As a result, we can fully optimise the Veeam tools for the purposes of the entities to which we provide our IT services.
Since the beginning, Veeam has specialised in developing tools for data protection, fit for current tendencies in the IT field, such as the cloud and virtualisation. Virtual machine backup is possible in two environments, with which Veeam solutions are fully compatible – VMware vSphere (VMware backup) and Microsoft Hyper-V (Hyper-V backup).
The operability of the solutions along with a wide array of configuration possibilities allow optimal use of backup copies, backup and replication by teams working in virtualised environments. Additionally, thanks to the differentiation of the offered solution suites, the software can be safely implemented for the purposes of both small enterprises and large companies operating in many areas. Moreover, there are solutions aimed at continuous monitoring and notifying of virtual environment condition, which gives the sense of full control and complements the investments with full protection.
Investing in data security with the Veeam solutions will enable enterprises and organisations operating in highly efficient virtual environments to provide maximal possible protection over their business process and will consequently reduce the total expenditure on infrastructure maintenance and improve returns on the investment in virtualisation.
For complete product catalogue with product codes, visit http://www.veeam.com
Developed based on materials made available by Veeam.