Each tender we participate in means priceless experience for our team. All the more so we are happy to announce that we succeeded in acquiring yet another Client for our specialist outsourcing services – the National Library of Poland.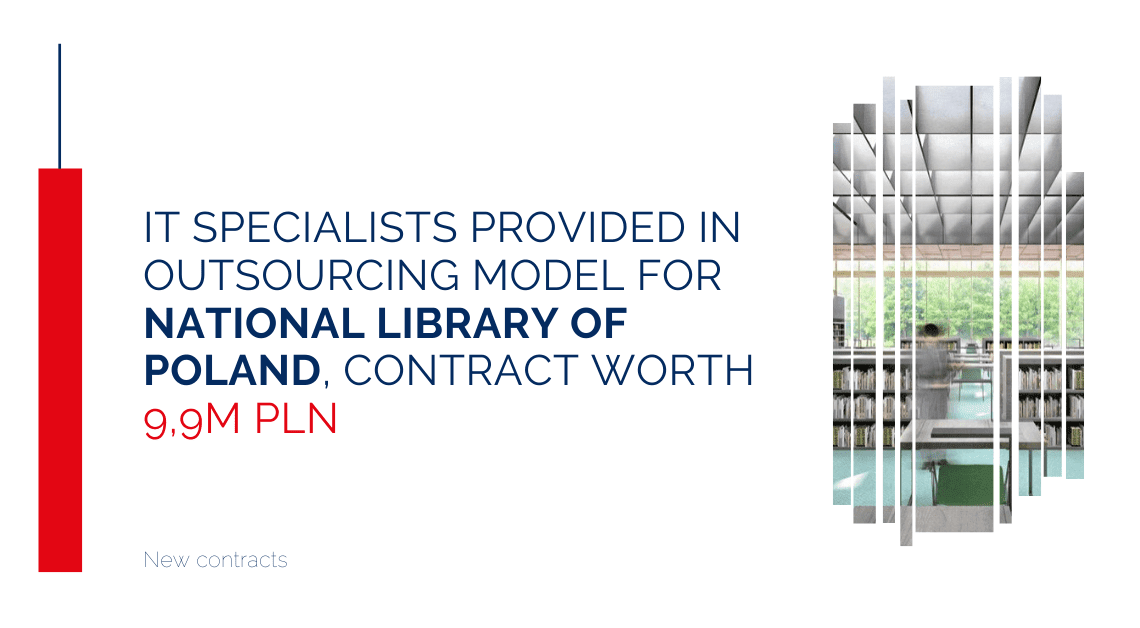 The contract, with the maximum value of gross 9.9 million, was entered into on 26 September 2019. It was concluded for the next 24 months and under it ESKOM will provide the best IT specialists and UX/UI designers.
As part of the pursued internal projects, the National Library of Poland indicated the need for support by specialists in the following fields:
Business and system analyst
Systems architect
Security specialist
Deployment specialist
Data warehouse specialist
Technical Java leader
Software developer – front-end developer
UX/UI Designer
DevOps
IT documentation specialist
Database Developer
If you appreciate quality and fast operation, approach a company providing dedicated IT solutions. We understand businesses and technologies, we know our Clients' needs and we can select and verify candidates for IT projects.
ESKOM solutions are flexible. Apart from the outsourcing of individuals or entire teams, we can execute an entire IT project for your organisation. If you do not know what solution is best suited for your organisation – contact us! We provide properly selected specialist or entire project teams to fulfil a specific business need. Most importantly, we perform the task in time and at the cost difficult to achieve by the Client themselves, whose key activity does not revolve around IT specialist acquisition.
For over a dozen years, we have been providing IT services (IT outsourcing, IT specialist outsourcing), we have been implementing dedicated IT solutions in the field of IT infrastructure and security and we have been creating and developing software. From the very beginning, we have been expanding the scope of our competences. Our Clients include both large organisations (from the financial and public sector mostly) and SMEs.