The HPE BladeSystem solution is the basis of a convergent infrastructure. It is something more than just servers as it combines the servers, mass memory, network devices and power supply management in a single easily managed integrated environment.
BladeSystem includes, e.g.
c7000 and c3000 housings
BL460c, BL660c servers
mass memory D2220sb module
HPE Virtual Connect modules and network switches.
c7000 and c3000 housing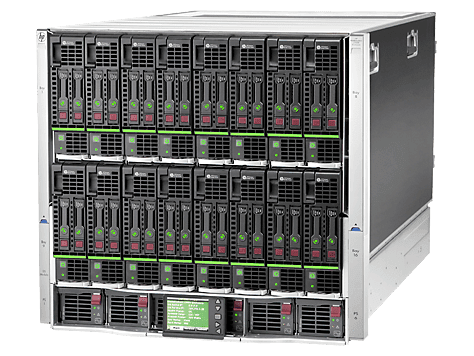 HPE BladeSystem c7000 and c3000 are the backbone for every BladeSystem solution, providing a complete infrastructure necessary for support of modular servers available now and in the future. C7000 has the 10U format and can fit max. 16 server modules and/or mass memory modules as well as excess modules of the LAN and SAT output (up to 8 modules).
It offers a common intermediate bus with 7.1 TB/s throughput, operating in the NonStop mode and allowing for fast component connection. Furthermore, it supports 1- or 3-phase power supply with alternate or direct current, with voltage of 48 B, guaranteeing high flexibility in implementation. The c3000 housing is the smallest solution of the 6U format, allowing for installation of up to 8 servers and 4 output modules. The HPE BladeSystem are managed by means of the Onboard Administrator module, ensuring full control of the infrastructure. The module itself can be also found in the excess variant, additionally improving the availability level of the entire solution.
Blade type servers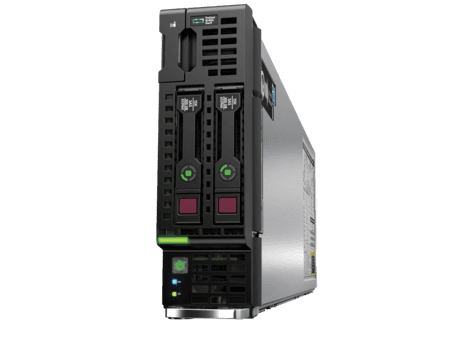 The most popular Blade type servers are: two-processor BL460c and four-processor BL660c. In case of the first model, we can install maximum 16 devices in the c7000 housing, whereas in case of the second model – maximum 8 devices, which in both cases translates into maximum 32 processor units placed in 10U.
For comparison purposes – using 1U DL360 servers on the same area, we can locate maximum 20 processor units, plus additional components in the form of, for instance, network switches, made available by the BladeSYstem solution within the scope of the same space occupancy.
BL460c is a uniform server designed for multiple available configurations, implementation options and applications. It is equipped with the latest available Intel Xeon processors.
BL660c on the other hand, is a perfect solution for application within the scope of databases, virtualisation, business processes or other four-processor applications. It is equipped with the latest available Intel Xeon processors.
Regardless of the selected Blade type server model, administration can be carried out by means of the HPE OneView software. It is a convergent platform, improving business efficiency and accelerating IT service provision. This approach allows to create a complete environment within one housing using HPE BladeSystem, combining virtualisation and traditional applications as well as allowing for management of the entire system from the level of a single panel.
Mass memory module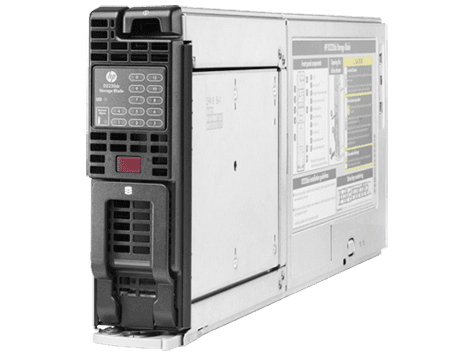 The D2220sb module is mass memory connected to one neighbouring blade type server by means of the PCI Express quick connector. It supports maximum twelve SAS/SATA/NL-SAS drives in the SFF format (small form factor, 2.5"). Nevertheless, the HPE StoreVirtual VSA software allows to change D2220sb into SAN iSCSI mass memory made available for all servers in the housing and any external servers. Module administration is carried out using the Array Configuration Utility (ACU) tool available from the Internet browser level.
Virtual Connect Modules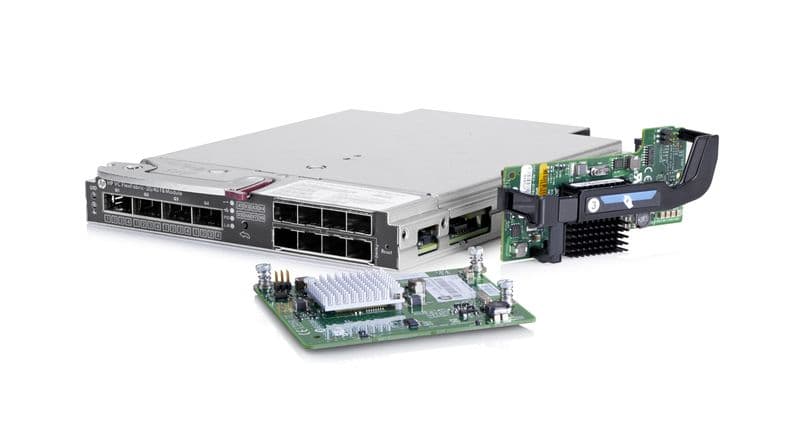 The Virtual Connect Modules are a convergent and flexible solution allowing for connection of virtual Blade type servers to the data transmission network or mass memory. They allow to eliminate up to 95% of the equipment necessary for connection of the servers to the network. Modules of this type provide consolidation of hardware connections, replacing maximum 3 10GbE switches and 1 8Gb Fiber Channel switch within the BladeSystem c7000 housing.
Furthermore, the FlatSAN solution allows for direct connection with the HPE 3PAR StoreServ mass memory, contributing to a decrease of the number of hardware components, delay reduction and increase of configuration speed. Everything has to be connected and configured only once, and then all modifications, additions and transfers of network connections among hundreds of servers can be performed using a single console, without any effect on the LAN and SAN network operation.
For complete product catalogue with product codes, visit http://www.hpe.com
Developed based on materials made available by HPE.