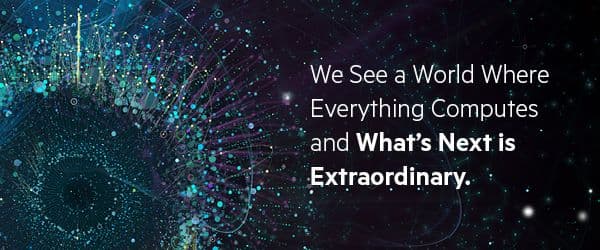 On the 19th of April 2018, ESKOM will participate at the HPE Reimagine 2018 conference, which will be held in Warsaw. This long-expected event brings together IT specialists and experts, so that collectively they may look towards the future of the world of business and information technology.
ESKOM, as conference partner, has prepared a demo stand, which will present the solutions based on HPE technologies. We have opted for the following topics:
HPE Synergy (Solution+) based solution
Our proposal is a complete product based on HPE Synergy Composable Infrastructure and Red Hat Application Stack. The combination of these solutions constitutes an answer to the market needs in the sphere of constructing rapid and fully automated environments in accordance with the DevOps idea.
Practical aspects of availing of that that solution we will demonstrate during the following scenarios:
From zero to a hero server in your Data Centre, with operational system, network, profile, favourite packets and application (HPE OneView API, HPE Synergy, Red Hat Ansible).
Automated management of physical and virtual infrastructure, and of the cloud, at a single place (HPE Synergy, Red Hat Cloud forms).
Presentation of private cloud, which your administrators and users will love.
A single click away from the PasS platform for your developers (HPE Synergy, Red Hat OpenShift).
HPE Simplivity solution
Here we will focus predominantly on the issue of backups of virtual machinery, and in the presentation, we have taken account of the following scenarios:
How can be saved up to 90% of the mass memory capacity for virtual machinery and its backup?
Way of recovery and backup of 1TB virtual machinery in just 60 seconds.
Presenting, in what way by just 3 clicks in one console, can be done backup, clone and machinery recovery.
On top of that, ESKOM will prepare webinars relating to broadly understood DevOps. First of them we wish to organize even before the HPE Reimagine IT conference.
Webinars will constitute a combination of lectures and workshops, at which, we will demonstrate and construct the IaaC and PaaS platforms, live. We predominantly focus on the practical thigs and transfer of our substantial knowledge and multiannual experience. Thanks to such approach, the participants will get to know real examples of using technology and assumptions, thanks to which the DevOps projects had such spectacular success.
Webinar 1 – Are your organization and you ready for DevOps?
Webinar 2 – Automation of infrastructure.
Webinar 3 – Modern environment for developers.
Webinar 4 – Construct your private cloud and hybrid IT, availing of the familiar tools and HPE Synergy