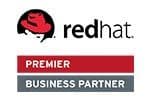 We are proud that ESKOM has joined the elite group of four Polish companies that have Red Hat Premier Business Partner – the highest affiliate status. Red Hat is a global leader in providing products and services based on the open source model for large companies and corporations.
Red Hat places its partners with a number of requirements before they decide to upgrade their status, so getting Red Hat Premier Business Partner Status is a confirmation of the ESKOM's current engineering competences and long-term business relationships.
The aim of ESKOM's activities is not only to build the prestige of the company – each partner status has a practical dimension for our clients. Thanks to our partnership with Red Hat, we are able to respond to our customers' business needs by offering better prices and a wider range of services and products.